---
Ordering Information:
All prices include postage. Ordering is easy. If you have a Paypal account, or if you wish to order by secure credit card without a Paypal account, order directly from the page you are viewing, using the Paypal shopping cart buttons. (Paypal accepts credit cards without opening an account)
More than 3,500 items have been sold!
---
The new Dinofish.com Coelacanth T! Lavishly digitally printed in five colors on black, 100% pre shrunk cotton. It's not cheap, but is of a quality that we've never done before. Should last for epochs. Designed, as a graphical interpretation of the life sized model of the "first" coelacanth (1938) in the East London Museum. Get the latest in prehistoric fish apparel. Speaks for and to the ages. Helps keep this website online. Ths is the only T currently available. (I'VE ONLY GOT ONE SMALL LEFT!!!)
T shirt is $40 in the U.S. and
$45 elsewhere. Includes postage

Domestic (U.S.):

Foreign:
---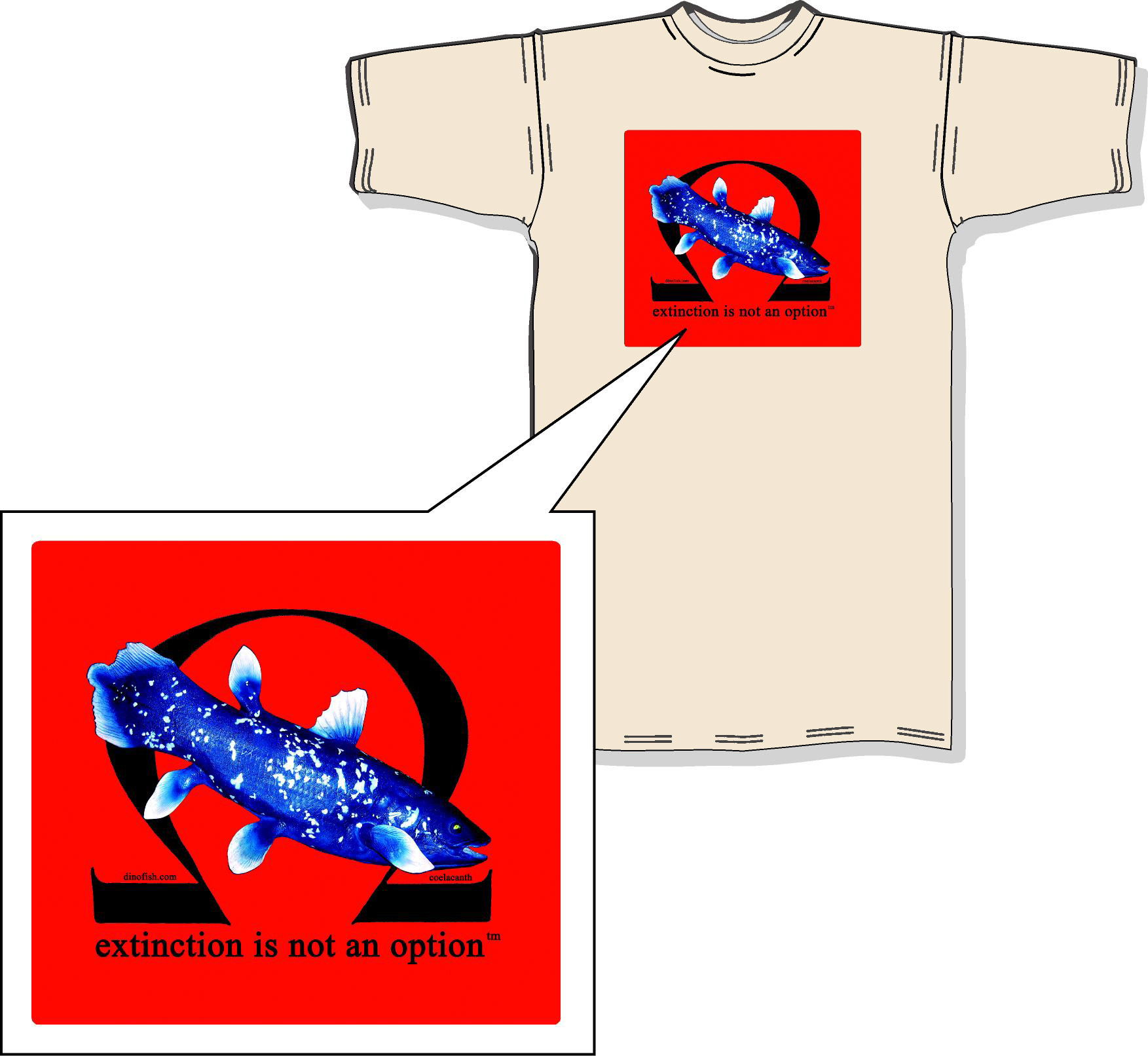 OUT OF STOCK DO NOT ORDER!
The CRM "Extinction is not an Option" T-Shirt (heat transfer) uses our latest trade marked slogan. A coelacanth is pictured swimming in front of an Omega symbol- the last letter of the Greek alphabet- representing a "forever" point in the flow of evolution. The shirt color is "natural"- a light beige. This shirt is very sharp and makes a strong statement. The backs of the shirts are plain.
These shirts are available in small, medium, large, extra large, and XXL.
$18.00 in the continental U.S.
$20.00 outside. (Prices Include S&H)

Domestic (U.S.):

Foreign:
---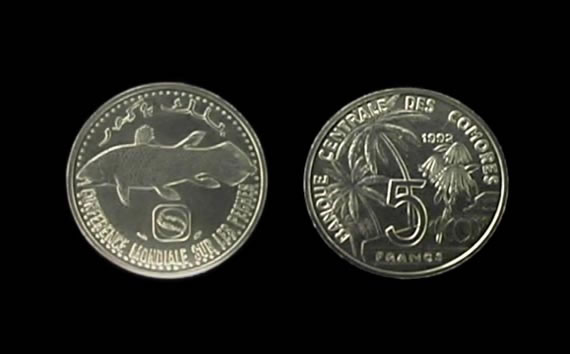 Comorian Coelacanth coin.- approx 1.25" diameter. This coin made from a light metal alloy has a coelacanth on one side. While the coins are of a small denomination, they are hard to come by! Lucky Coelacanth coin: $10.00 (includes postage) while they last.

$10.00 in the continental U.S.
$15.00 outside. (Prices Include S&H)

Domestic (U.S.):

Foreign:
---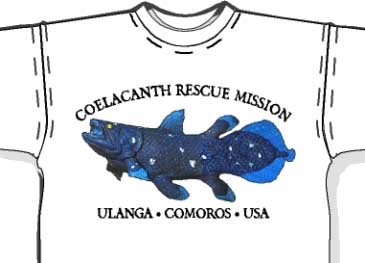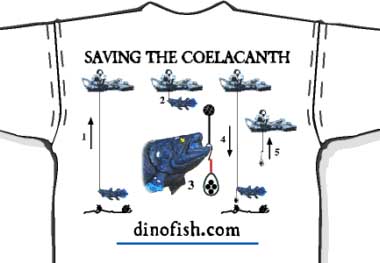 OUT OF STOCK DO NOT ORDER
This shirt design was to be discontinued! Because of its unique popularity, we have had a special edition reproduced in white and gray in XXL, XL, L, M, and Small.
The CRM "Deep Release" T-shirt (heat transfer) was a unique concept. (This is the famous "shirt heard round the world!")The shirts that we sent to the Comoros for the fishermen to wear actually had the Deep Release kit sewn onto the back below the diagram, so that it was available to them while they were fishing. (We discovered that Comoran fishermen love T-shirts.) When they accidentally caught a coelacanth they could then follow the release procedure diagram on the back of the shirt to set it free. More than 100 of these and 400 of the new more easily produced Type II's have been sent to the Comoros thanks to contributors.
Domestic (U.S.):

Foreign: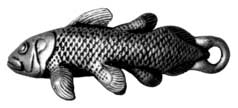 The keychain, a truly unique coelacanth ornament. Comes in Pewter only now. Brass no longer available. Measures approx. 2 inches long. Makes an exotic Coelacanth souvenir and keepsake...
Coelacanth Key Chain:
$12.00 in the continental U.S.
$18.00 outside. (Prices Include S&H)



Domestic (U.S.):

Foreign:
---
Click Here to visit the Hall of Fame
---

---